About The Challenge
Miniature Painting Challenge #004 Tribute has concluded. The goal of this competition was to create a "Tribute" to a song, band, or album. We received a lot of great and inspiring work. Judging wasn't easy, in the end, 3 winners were announced.
First Place
First place went to Aleksandrs Kodolvs for his work "Fear of The Dark".  A tribute to a song by Iron Maiden and the game Don't Starve. The final piece is a great homage to both.
What makes this piece unique is the paint used for the background. The entire background and monsters are painted using Musou Black paint. It's a special type of paint that can absorb up to 99.6% of light. It creates a great effect by making monsters almost blend into the background.
Second Place
Second Place went to Diego Tapia Ramírez (@triton_minis) for his work "Discovery". A tribute to an entire album by Daft Punk. According to Diego, he drew inspiration from iconic music as well as Interstella 5555. The movie was produced for the same album. He wanted to represent Stella, the protagonist of the movie as well as include elements related to the story depicted in the film.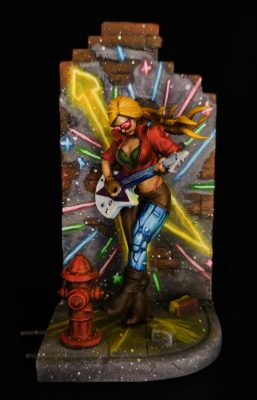 Frontier Pick
Frontier Pick is a prize given for the best idea chosen by the Frontier Team.
It went to Mr. James Foulkes for his work "Wrecking Ball". A tribute to a song by Miley Cyrus.
This work is instantly recognizable, fun, and most importantly, never failed to put a smile on our faces.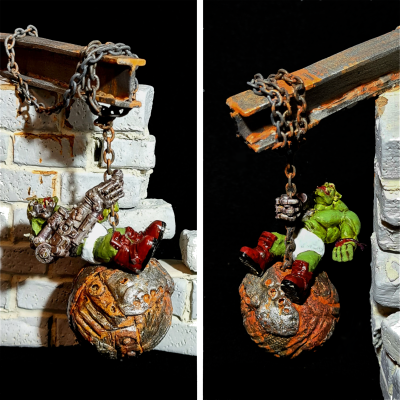 Finished Works
Below you can find all the final submissions for the MPC#004.