Hello painters!
With Halloween around the corner, we can't think of a better time to announce a new painting challenge. This time we dive deep into the world of festive horror, nightmares, and macabre with the theme "All Hallows' Eve"
So, prepare your werewolves, witches, and ghouls for a chance to win a one-of-a-kind custom Paint Case, a  choice of a Mini Case or any two of our new Tabletop Paint Station units, or a Wet-Pallete with a Brush Holster.
Theme
For this challenge, you will need to paint a piece that fits with the "All Hallows' Eve" theme.
Anything dark, occult, and grim will do. Since Halloween would be incomplete without a good horror movie, entries based on classic horror are more than welcome.
You can submit your entry via this form.
Finished works need to be submitted before November 13th, 2022.
Include a picture of your entry before it was painted and the best images of your finished work.
The before image needs to have a handwritten note next to it with a start date and MPC#006 written on it.
Entry Works Requirments:
Any miniature can participate.
Submitted works can be of any scale.
Single models must be on a  plinth with a thematic base and a backdrop. The backdrop can be excluded if your base is enough to convey the story.
Dioramas are more than welcome.
Busts should include storytelling elements, like a themed plinth or a backdrop.
Judging:
All entries will be evaluated by our guest Judges.
Don Suratos– A talented artist that you might know from the works he did for Vallejo, his youtube channel, or his Maquina painting book.
Will Brightley– A talented commission artist who does amazing conversions and finishes them up with an outstanding paint job.
AlexPaintsMinis– The winner of MPC#004. A passionate artist who strives to achieve the highest level of detail in all of his works.
You will be judged on the following criteria:
Build quality:
How well the model is assembled, are there obvious mould lines, gaps, or obvious imperfections?
Paint application:
How smoothly the paint is applied. What techniques are used, and how well they are used?
Basing and decorations:
How well the base is decorated. Does it fit the narrative?
Overall composition:
How well everything works together. What is the focal point of your piece? What details stand out?
Theme:
How well does your work fit with the theme?
Winners and Prizes
Just as before we will have Judges Choice and Frontier pick categories.
Judges Choice: Two winners will be chosen based on the score given by our guest judges.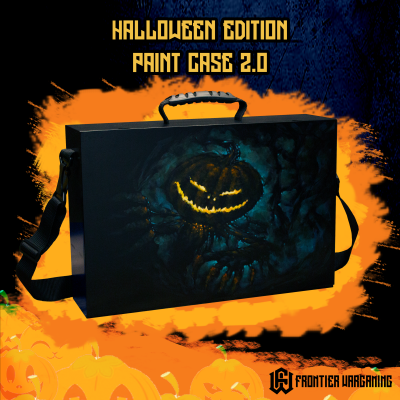 The First Place will receive a one-of-a-kind Halloween Paint Case 2.0.
It's the first case made in awesome jet-black colour, with a hand-painted design on the front lid.
The Second Place will receive The Mini Case with a custom engraving or 2 of our new Tabletop Stand, your choice.
Frontier Pick is given for the best idea chosen by the Frontier team.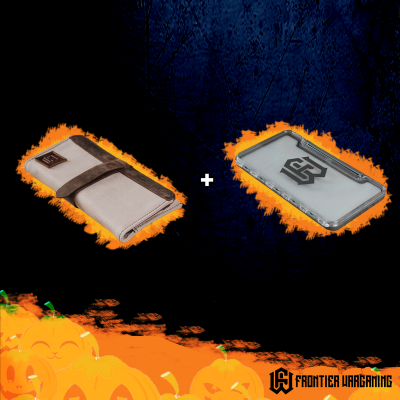 Frontier Pick will receive The Wet Palette with a Bush Holster add-on.
Voting
Voting will happen between: 14.11.2022 – 18.11.2022
The final results will be posted on: 21.11.2022
GOOD LUCK AND HAPPY PAINTING!
If you have any questions feel free to visit the FAQ or send us a question to [email protected]