MPC#007
Love, Death, and Robots
 Attention all painters!
Unleash your creativity with MPC #007 and explore the theme of Love, Death, and Robots.
It's time to put your brushes to work and create a stunning diorama that showcases your interpretation of this thought-provoking theme. Whether it's science fiction, fantasy, horror, comedy, or something else, let your imagination run wild and show us your vision.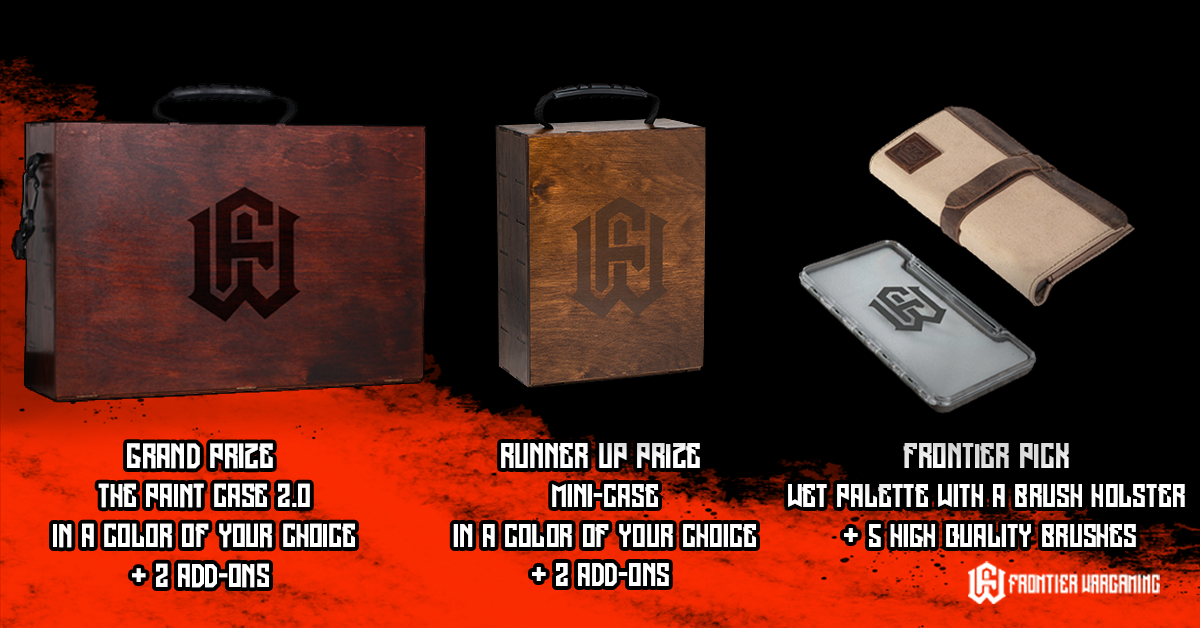 Prizes
Enter for a chance to win one of three exciting categories and prizes:
Grand Winner (Diorama): Be crowned the best and receive a сustom engraved, custom-painted Paint Case 2.0 in the color of your choice + 2 add-ons.
Runner-Up (Diorama): Win a custom engraved,  custom-colored mini-case with 2 add-ons of your choice.
Frontier Pick: Impress the Frontier Team and receive a wet palette, brush holster, and set of 5 high-quality brushes.
Entry and Registration
 Entering is easy! Dioramas of any scale can participate. 
 You can register via this google form. We will send you a follow-up email to submit your finished work.
Registration is open until: 10.03.2023
Finished works need to be submitted before: 10.04.2023
The registration image needs to have a handwritten note next to it with a start date and MPC#007 written on it.
Join us for MPC #007 and let's see what Love, Death, and Robots inspire you to create.
Register today!
Judges
Our esteemed guest judges are eager to evaluate all entries in the painting contest and crown the winners.
Will Brightley (@will_paints) – A talented commission artist who does amazing conversions and finishes them up with an outstanding paint job.
Jose Antonio Olmedo (@akadstudio) – The only thing more vibrant than his color schemes is his impressive portfolio.
Judging
Your entries will be judged based on five crucial criteria:
Build Quality: The judges will evaluate how well the model is assembled, paying close attention to any noticeable mold lines, gaps, or obvious imperfections.
Paint Application: The smoothness of the paint application and the techniques used will be evaluated.
Basing and Decorations: The creativity and coherence of your base decoration with the narrative will be assessed.
Overall Composition: The judges will consider how well everything works together, including the focal point of your piece and the standout details.
Theme: How your work fits with the theme will be closely evaluated to ensure it aligns with the title of your work.
Don't miss this opportunity to shine! Register today, and let the painting begin!
FAQ

Q: Do I need to make an entry based on the show?
A: You can if you want to. The entry can be anything as long as it relates to the main 3 prompts. |
Q: What Title should I give to my entry?
A: The title should help us understand the story of your diorama. Think of it as an episode title, for example, "Three robots", "Sucker of souls", or "Ice age".
Q: What can I submit?
A: You can only submit a diorama. Single models will not be accepted if they are not part of a diorama.
Q: What kind of miniatures can I use in a diorama?
A: You can use any type of miniature, including single models, units, busts, or vehicles. The main requirement is that the model should fit the theme you're trying to portray.
Q: Can I register if my sculpture is still a work in progress?
A: Yes, you can register by submitting Work In Progress images.
Q: Does it matter if my model is primed when I submit it?
A: No it does not, you may submit primed models.
Q: Can I submit multiple entries?
A: No, each participant is limited to one entry.
Q: I'm a novice painter- is there still a chance for me to win?
A: Yes, there is definitely a chance for you to win! We have a category that caters to all skill levels:
Frontier Pick: This category recognizes creativity and is awarded to the entry that demonstrates the best idea and execution, regardless of technical skill.
Q: I have more questions, where can I ask them?
A: If you have any further questions, please feel free to reach out to us at [email protected] and we'll be happy to assist you.